Instructor/Assistant Professor of Education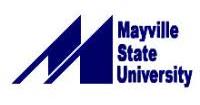 The Division of Education at Mayville State University is seeking applicants for a full-time Assistant Professor/Instructor of Education to teach undergraduate and possibly graduate courses in teacher education. Job responsibilities include but are not limited to: instruction in on-campus, online and distance education courses, supervision of students in clinical field experiences, collaborative work within the Division of Education in program planning and operations, advising, support for research initiatives, and other faculty responsibilities for the university. Extensive collaborative teamwork, evidence of educational leadership and excellent interpersonal communication skills are required.
Minimum qualifications:
A Master's Degree in Education with undergraduate degree in special education, elementary education, secondary education or a combination of these majors/ minors and current doctoral program study;
Minimum of 5 years of teaching experience in K-12 classrooms;
Demonstration of excellence in teaching to include application of current instructional technologies and research-based instructional strategies;
Successful experience collaborating with education stakeholders in both P-12 and university settings;
Experience with diverse students/faculty;
Experience working with Multi-Tiered Systems of Support.
Preferred qualifications:
Earned doctorate in education;
Experience with leadership in higher education;
Experience in Special education;
Experience teaching in higher education to include supervision and mentoring university students;
Experience with educational assessment systems;
Experience in higher education teaching distance/online education;
Demonstration of or potential for collaborative student-instructor research and scholarship
See the university's website for more information.