Assistant/Associate Professor of Agribusiness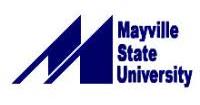 The Division of Business at Mayville State University is seeking applicants for a full-time, tenure track, Assistant/Associate Professor of Agribusiness beginning August 17, 2020. The teaching duties would include general agribusiness coursework including and not limited to Farm & Ranch Management, Sustainable Food Production Systems, Ag Commodities & Price Analysis, and Trends & Issues in Agriculture or other courses in the business department depending on candidate qualifications and interests as well as departmental needs. Courses are delivered via multiple modalities (IVN, online, hybrid, face-to-face). Other duties include academic advising, committee work, monitoring agribusiness internships, advising student agribusiness organization (FFA,
Agribusiness Club, Collegiate Farm Bureau, etc.), and other division responsibilities as assigned.
Required Competencies:
Ability to effectively, professionally and tactfully interact and communicate with students, faculty, and staff
Significant attention to detail
Effective communication and interpersonal skills
Demonstrated high level of teamwork/cooperation/collaboration, initiative, customer service and organizational skills
Ability to work flexible hours, some early morning, evenings and weekend hours are required
Minimum Qualifications:
Master's degree in Agribusiness or related field (Agriculture Economics, Animal Science, Precision Agriculture, etc.)
Relevant agribusiness or industry experience
See the university's website for more information.