Assistant/Associate Professor in ABA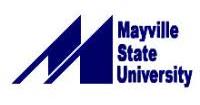 The Division of Education at Mayville State University is seeking applicants for a full-time Board-Certified Behavior Analyst (BCBA) to lead program development and instruction in MSU's undergraduate Applied Behavior Analysis program. The BCBA hired will collaboratively lead curriculum development, teach, and oversee clinical experiences associated with the ABA program according to professional standards. The successful candidate must be able to demonstrate innovative teaching practices to support on-campus, online and distance learners and model exemplary professional skills that support student learning outcomes.
Collaborative work within the Division of Education for program planning and operations, advising, and other faculty responsibilities for the university is required.
Minimum qualifications:
Board Certified Behavior Analyst (certification must be current and includes supervision)
Doctoral degree in education, applied behavior analysis, or psychology
Administrative experience with ABA programming
Evidence of Extensive work with students and families addressing behavioral needs
Five years of experience in behavior analysis and/or special education
Teaching experience in higher education online and on campus
Experience with online course development
Experience with diverse populations
Preferred qualifications
Administrative experience with ABA program development,
Accreditation and assessment
Experience working collaboratively within the university and in the greater community
Experience with online course development
Experience advising university students
See the university's website for more information.