Adjunct Faculty – Non-Benefitted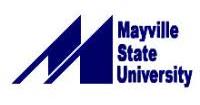 Mayville State University accepts applications for adjunct instructors on an ongoing basis. These positions and applications are viewed as opening occurs.
Minimum Qualifications:
Master's degree
Teaching experience face-to-face and online.
Background/experience in applying instructional technology as a tool in education.
Preferred Qualifications:
Experience teaching in higher education
Two years of experience teaching face-to-face and in an online environment
See the university's website for more information.